B2B Marketing Development, Deutscher Markt
Zürich, Karlsruhe oder remote, 60–100%, permanent
Be authentic, honest and deliver on your promises – the rest will take care of itself.
Our Mission
Skribble aims to simplify the lives of people and create trust in the digital world. Worldwide. Our mission is to contribute a key element that is intuitive in usage and simple to implement: digital signatures. We advise and support organizations in the implementation of digital signatures, so that we all are better off by trusting more, wasting less time, and safeguarding environmental resources.
The Team
Our team is highly motivated, positive and works closely together. We are growing fast and our next step is to bring Skribble to Europe. We are nice, fun-loving people, working on a non-commission basis and strive to make the world a better place: one signature at a time. This culture has made us one of the top 3 ascenders in the Swiss startup ranking 2020. Off work, we can be found riding bikes or indulging life with our families and friends.
Your Contribution
We are expanding to Germany. For this big step, we are looking for a seasoned B2B marketing specialist who'd like to take responsibility for our marketing in Germany, who is familiar with the peculiarities of the German market and has experience in the SaaS industry. More specifically, you will: 
Refine Skribble's positioning in Germany
Identify and prioritize B2B marketing opportunities all along the sales funnel that are relevant for the German market 
Be responsible for the implementation of marketing initiatives in collaboration with your content and design colleagues and freelancers
Continuously measure the success of the actions taken in collaboration with the performance marketing team
Responsible for the setup of our website for Germany (de.skribble.com) in collaboration with performance marketing, content and branding
Your Background
5+ years of experience in B2B Marketing in Germany, preferably in SaaS. Your background is in marketing, communications or content.
Strong project management and collaboration skills
Hands-on mentality, combined with strategic thinking
Fluent in German (mother tongue) and English (C1)
Knowledge of the German market. Experience with expanding to other markets is a plus
Our Offering
Opportunity to be part of a fast growing tech company with an aspiring and experienced team 
A job with a purpose: save human and environmental resources by enabling digital signatures #worksmarter
Company culture of transparency and self-responsibility
Flexibility in the organisation of your working time, place of work and your devices
Jetzt bewerben
Wir freuen uns auf deine Bewerbung und deinen CV.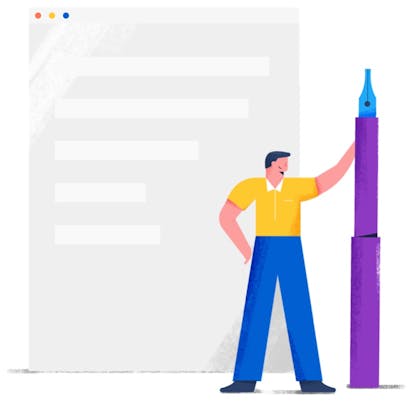 Signieren Sie rechtsgültig
mit wenigen Klicks
Weltweit einsetzbar, gehosted in der Schweiz.
Jetzt loslegen
Pläne vergleichen
Kostenlose Testphase verfügbar.
Nutzbar auf Deutsch, Englisch und Französisch.
Italienisch möglich für Kunden, die ohne Konto signieren.