Today, almost any internet-ready device can be used to sign a PDF with a legally binding electronic signature. What many people don't know, however, is that legally binding e-signing works differently than a regular signature on a piece of paper with a pen. The handwriting itself is not what makes an e-signature legally valid.
Visual signature: irrelevant from a legal perspective
For an electronic signature to stand up in a court of law, it must include a data packet – or signature certificate – attached to the PDF document. This certificate contains the following information:
the signature time – when was the document signed?
the identity of the signer – who signed?
integrity information about the document – was the content modified?
This signature certificate is what makes the PDF version of your contract legally valid. Any visual signature, such a scanned handwritten signature, is moot from a legal perspective.
Photographed/scanned handwritten signatures
A PDF contract with a photographed handwritten signature is not necessarily legally valid. The same is true of contracts signed using a touch display.
Contracts that must by law be in written form – e.g. terminations, loan agreements or various types of employment contracts – must always include a signature certificate for them to be legally binding.
Even contracts that don't have to be in written form use signature certificates to minimise legal risks. The reason for this is that the elements that provide evidence of the authenticity of a handwritten signature – such as the pressure applied with the pen – become indecipherable due to pixelated photos or scans, rendering them legally null and void.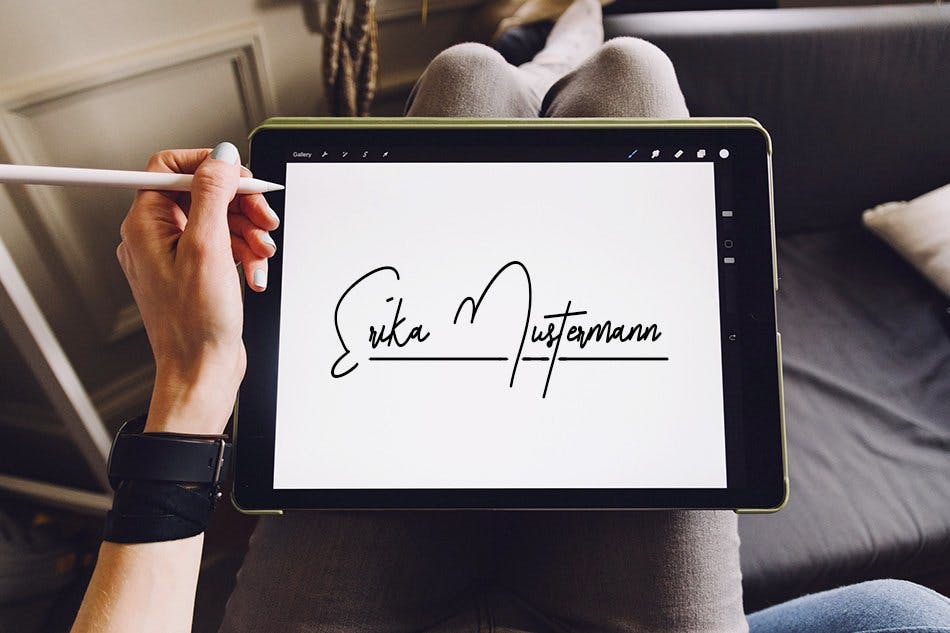 Touch display signatures also lack validity. The same is true of scanned signatures. © Unsplash
The best of both worlds: PDFs combining a visual signature and legally binding signature certificate
Skribble offers you both options together: a legally binding signature certificate combined with a visual, albeit legally irrelevant, signature. The latter still exists for a reason, however.
For example, our users have told us that even with the advent of e-signatures, people still want visual signatures because we are creatures of habit. It just feels odd to have a contract without the image of a handwritten signature. The visual signature also adds an element of personalisation to e-signatures.
Skribble gives all its users the option of adding a visual signature. The signature certificate is always included as the legally binding element.

Mac, Windows, iOS or Android? Skribble works on all devices and operating systems
This is how signing with Skribble works:
Upload the PDF in question to Skribble
Drag and drop the visual signature to the desired place in the document (optional). You can personalise the visual signature ahead of time.
Click on 'Sign'
Confirm with your mobile phone
The contract is now signed and signed.
Skribble works on all operating systems and mobile devices. The e-signing platform is accessed via the browser or plug-in integrated directly into your document management system, such as Microsoft OneDrive and SharePoint, Google Drive, or other industry solutions like SAP or Abacus. 
NOTE: your choice of e-signature standard will depend on which laws govern formal requirements as well as your company's internal guidelines, and may differ from the examples provided here. Consult a legal expert in your specific case.