Pricing and plans
Skribble enables you to sign contracts in a few seconds –
legally valid worldwide and secured in accordance with the highest data protection standards in Switzerland.
Fair Flat
For individual users
who value efficient work.
---
2 signatures a month are free, identification for QES is charged separately. Excl. VAT.
---
Monthly maximum: EUR 39
If you invite other people to sign after you've reached your monthly limit, their signatures will be charged extra.
Learn more
Highlights
Ready for immediate use on your smartphone and computer
Sign anywhere without a USB stick or smart card
Invite others to sign by e-mail
Sign multiple documents at once
Business
For small companies and teams that want to get started right away.
---
EUR / month*
(yearly billing)
*with yearly billing (EUR 1,188/ year).
EUR 129/ month if billed monthly. Identification for QES is charged separately. Excl. VAT.
---
Unlimited number of members
Included signatures: 600/year or 50/month (also during the trial).
Learn more
Highlights
Ready for company-wide use in a few days
Central administration and membership management
External parties can sign without having a Skribble account
Sign directly via the browser or integrate Skribble via API with the systems you already use
Enterprise
For large companies with high requirements for service & flexibility.
---
Together we'll make sure that the transition to e-signature is smooth.
---
Quotation on request
No matter what, where and who you sign with – we've got you covered with all the components needed for smooth and secure e-signing.
Learn more
Highlights
Personal Account Executive and Priority Support
Service Level Agreement (SLA) with a high availability guarantee
Simple access for all employees via single sign-on (SSO)
Advanced branding and customisation options
You are in good company!
---
Yes, you can try out all features Skribble offers for free for 14 days – no strings attached and no credit card needed. The trial period includes 50 free signatures and starts when you set up Skribble Business. If you decide not to continue with Skribble, you can cancel your Skribble Business at any time during the trial. In this case, you won't be charged anything.
Once you've used up the included signatures, you'll be charged for every signature made. Please contact us if you're interested.
Yes larger packages are available. Please contact us if you're interested.
No. You can have as many members as you wish at no extra charge. 
Skribble offers all three e-signature standards defined by EU/ Swiss law out-of-the-box: you don't have to worry about anything as we took care of contracting third parties such as identity and trust service providers. Only if you purchase additional services apart from signing, such as in the area of identification, additional contracts and costs may incur. 
Yes. Skribble is based on the e-signature standards defined by EU/ Swiss law and is legally valid – in the case of the qualified electronic signature even for contracts where the law requires the written form.
Yes. Skribble meets the highest data protection requirements and complies with the General Data Protection Regulation (GDPR) of the EU and the Swiss Federal Act on Data Protection (FADP). Moreover, Skribble offers bank-level hosting in Switzerland (certified according to ISO 27001). No data is processed in the United States (US), and no data access by US authorities can take place.
Skribble Business is ideal for small businesses and teams and is geared towards self-service. Skribble Enterprise is aimed at large companies with the highest demands in terms of service and flexibility.
Additional services for Enterprise customers include:
high guaranteed service levels and extended scalability of the platform
additional security services such as setting a document deletion period for all employees
guidance by e-signing experts
extensive branding and personalisation options
customised billing (e.g. payment method, currency and billing period)
---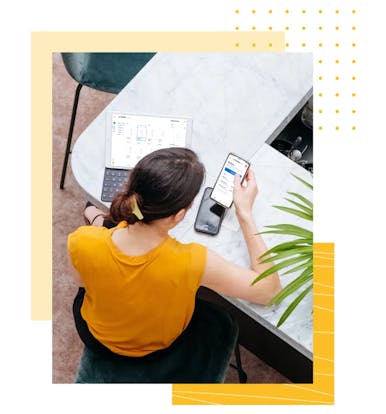 Sign legally valid with
a few clicks
Worldwide usage, hosted in Switzerland.
You can test Skribble for free.
No credit card needed.
Available in English, German and French.